Important Storm Drainage Information
Below is a message about storm water drainage that was recently published and distributed by the Town of River Bend. It has been updated and is being re-distributed. Due to an upcoming project, it is of particular importance to all residents of the Channel Run area.
River Bend is a waterfront community. Living in close proximity to water can certainly have some benefits. The Trent River and the Plantation Canal system provide many water-related opportunities to our residents. If you have lived in River Bend for very long, you are also aware of some vulnerabilities that exist due to our proximity to water. In addition to being a waterfront community, some of the town is also located in an area where the ground level elevation is very low compared to sea level. Much of that area is located in and around Channel Run.
During Hurricane Florence many homes in the Channel Run area sustained flood damages. A large portion of our official flood zone is located within this same area. Drainage is an important component in all of River Bend but it is of particular importance in the flood zone and in other low lying areas. Due to the winds, we can sometimes have minor flooding in River Bend, even on a sunny day when there is no storm. The recent threat from Hurricane Isaias reminded us all of how important drainage is. In River Bend, there are regulations about the maintenance of drainage systems. Much of the responsibility for storm drainage is the responsibility of the landowner. Click here for more details and some pictures as examples. Or you can visit our webpage at www.riverbendnc.org then click on the "Emergency Info" button then click on the "Your Responsibility For Flood Mitigation" tab.
With financial assistance from FEMA, the Town Council began a plan to address drainage improvements in the Channel Run area. Over the last few months, the town's engineer surveyed and investigated the drainage system in the Channel Run area. He recently reported his findings to the Town Council. Based on those findings, the Town Council has authorized the start of a project to improve the drainage in that area. The Town awarded a $156,000 contract to Hardy Construction to begin Phase I of drainage improvements in the Channel Run area.
One problem with the drainage system is that many obstructions have been placed in the street rights-of-way (ROW) or in other drainage easement areas by homeowners. Many times, owners are unaware that they do not own any land in the ROW. All land within the ROW is owned by the Town. When many people talk about a town "street" they are only referring to the paved portion of the street, not the entire ROW. However, a town street consists of more than just the paved portion. Not all streets in town are the same width. A typical town street is 60 ft. wide. The usual pavement width in a street is 20 ft. That means that 20 ft. on either side of the pavement is owned by the Town of River Bend. A map of an actual street in town follows and it represents the typical land ownership conditions along all streets in town. Obviously the 20 ft. along either side of the road is used for the location of water and sewer lines, street light and other utilities. Only a survey can determine exactly where the town property along a street ends and private property begins. However, if you measure 20 ft. from the edge of pavement, you will have a good idea where your private property begins. Also, things like street lights, fire hydrants, water meters, utility pedestals and ground based power transformers are usually located very close to the edge of the street ROW. They can be used as a pretty good indicator of where your private property begins.
Obviously, to be most effective, drainage areas need to be clear and unobstructed. Part of the drainage improvement project in the Channel Run area will include removing obstructions. If you have anything (such as a fence, structure, planter box, tree, vegetation, headwall, building, kennel, flag pole, sign, etc.) within the town's ROW or in a drainage easement area, that obstruction is subject to be removed. The town is not responsible for replacing it or compensating the owner for it, because it should not have been placed there to begin with. Anything located within a street ROW is on property that is owned by the Town of River Bend. A visit to the Craven County GIS site will give anyone a good idea of where their property boundary is located. When you click on a parcel, it will be surrounded by a blue line. Anything outside of the blue line is not a part of that parcel.
If you have any items, other than a permitted mailbox, on the town's property it should be removed immediately. This applies to all of town, not just the Channel Run area. Keeping all ROW's clear maintains our ability to easily access our town owned utilities and fire hydrants. It keeps those areas safer by eliminating obstructions to vehicles that may wander off the pavement. It allows street signs and traffic signs to be easily seen. It also allows access to privately owned utilities such as Suddenlink, Duke and Piedmont Natural Gas. Please do your part and keep these areas clean and unobstructed. In the event of an emergency, we do not want our staff, emergency staff or other utility crews looking through bushes trying to find a utility box, meter box or fire hydrant. Any time wasted doing so could cause more serious damage.
TYPICAL STREET SECTION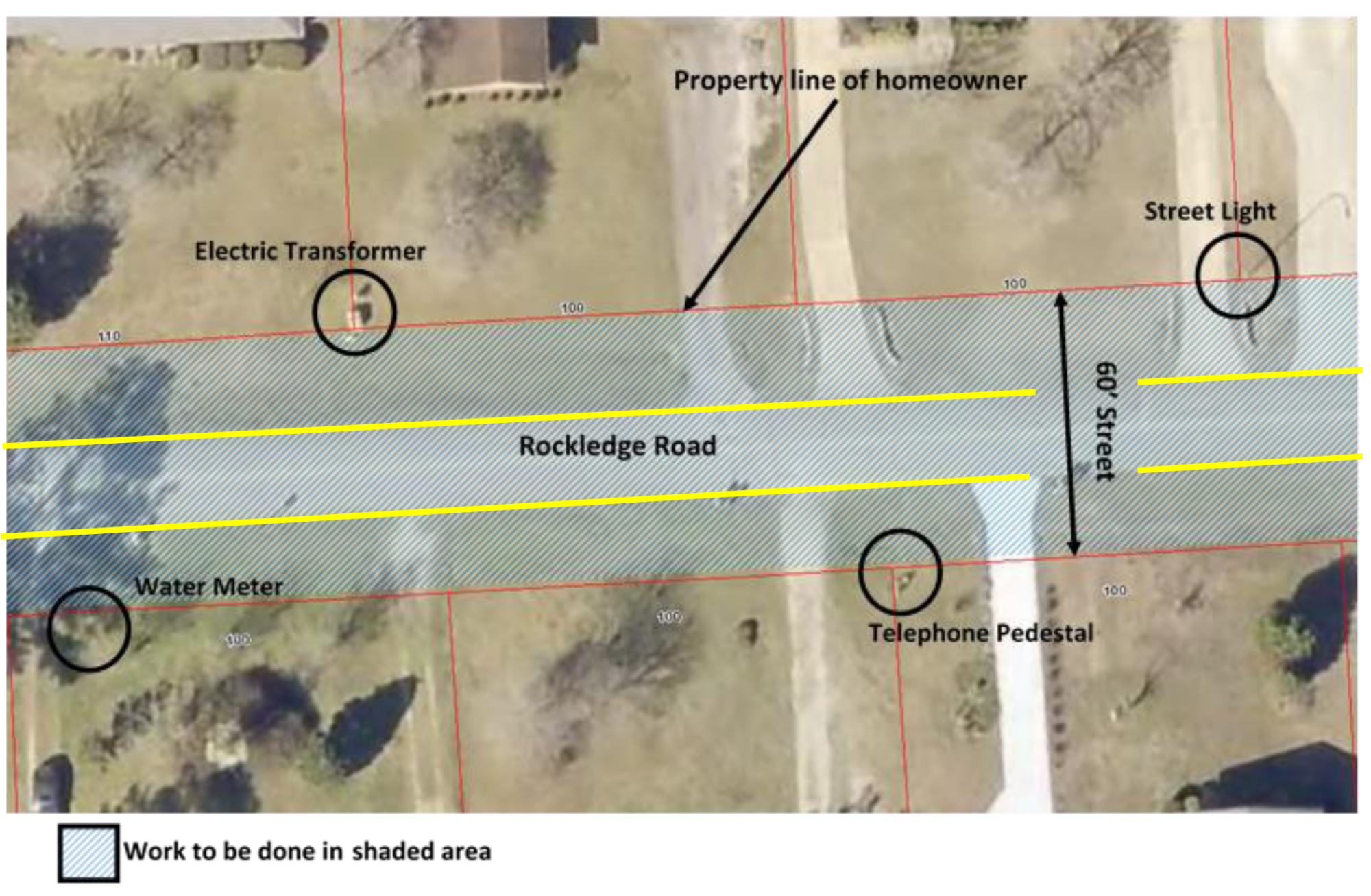 The map above shows a segment of Rockledge Road, but it represents the ROW scenario for all streets in town. All property within the hatched area (aka-ROW) on the map is owned by the Town of River Bend. Any items, other than mailboxes, located within the ROW should be removed. The yellow lines represents the paved area of the street.
Posted 10-2-20